We are Manufacturer, Supplier, Exporter of Metal Seated Ball Valve, Metal Seated Ball Valves, Flanged Ball Valves. Our setup is situated in Pune, Maharashtra, India.
Off center Two piece / Three Piece design uses of advanced spiral wound Graphoil gasket
Full Bore body, avoids clogging and ensures smooth flow when handling slurries and solid.
Design in compliance with ASME B16.34 / BS5351
Duel stem bearing design reduces side thrust effect on stem, ensure uniform torque and smooth operation.
Superior ball & seat finish to 5 RMS
Body and seats lapped and matched optimum performance.
Unique seat spring loading to assure zero leakage at low pressures
Blowout proof stem
Low emission packing
Lapped stellite thrust-washer lapped with valve body to provide smooth rotation reduced leakage
All valves with graphite packing and backup seal, and valves are fire-safe tested.
Advanced HVOF & Plasma spray trim coating with hardness more than 60 Rc
Stem Design Features:
Full guided stem, by bimetallic gland bearing
Extended stem
Double packed stuffing box design
Antistatic- Design
Leakage Test:
Class IV
Class VI also available
Actuator mounting flange:
ADVANTAGES
SANKEY METAL SEATED BALL VALVE
Metal to Metal Seating
The ball and the seat rings are hard-faced on the sealing areas by using different coatings selected upon the service conditions i.e. Electro-less Nickel Plating, Stellite hard facing, Chromium Carbide and above all Tungsten Carbide which assures, per our experience, the best results in most applications. The sealing is assured by true metal to metal contact between the two hard-coated surface. Each coating is applied per specific methodologies, i.e. Tungsten Carbide is applied by high velocity detonation gun.
Stem Design
The stem is independent from the ball and is a blowout proof design. The stem seals are designed per the service conditions, i.e. for high temperature valves (above 250 degC) stem seals is composed of loaded graphite packing. Valves for high temperature conditions are designed with extended stem to maintain the maximum sealing capacity of the packing.
TYPE :
Two Piece Flanged End
PORT :
Full & Regular (Reduced) Bore
SIZE :
15 mm to 250mm NB
Pressure Rating :

ASME #150 PN 20

ASME #300 PN 50

ASME #600 PN 100

Temperature Range
35 Deg C to 538 Deg C
Body Materials
Stainless Steel / Carbon Steel / Alloys
Design Standard
API 6D rev 23; ISO 17292 rev 2004
Face to Face Dimension
ASME B16.10 Rev 2009
End Flanges
ASME B16.5 2013
Fire safe design
API-607 Rev 2010
Testing
API 598 Rev 2009
Sour Service
NACE MOR 0175 Rev 2009
Documents
BS/EN 10204-3.1 REV 2004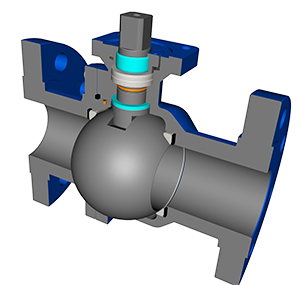 SANKEY designs and manufactures metal seated ball valves with high strength stainless metal seats and balls over-layed with carbides. Metal seated ball valves are required for many extreme service conditions involving abrasives, corrosives, high cycle rates or extreme temperature and pressure. These conditions require simple, well-built but rugged designs, metal seats, rigorous testing and carefully chosen materials. Valves should be tested to nationally recognized standards and, then again, with in-house methods designed to simulate the actual process conditions.
New developments in technology and our experience addressing severe service conditions have helped us to develop several lines of new products.
Valve Application: Hot hydrocarbons / scaling carbonates / fractionator bottoms /power applications / steam / catalyst withdrawal / fly ash / corrosive slurries / acidic slurries.

Areas of application: Chemical / Pharmaceutical / Food / Pharmaceutical / Petrochemical / Energy / Plastics / Oil and Gas / Cement and lubrication

Media: Bitumen Application / Fluids / Emulsion/ Syrup / Paint / Food Product (Chocolate etc.) / Granulate material / Molten Sulphur
KEY FEATURES:
ADVANTAGES
SANKEY Jacketed Ball Valve
Cavity free
The usual cavity between ball and housing in non- cavity free ball valves give cause for disturbance because residual products can crystallize, polymerize and so affect the function.
Clean, non- false product
No sediments of expensive products in the ball valve housing
Fire-safe tested and approved
SANKEY Wafer ball valves of the WF series have been tested successfully per British Standard BS 6755 and API-607.The material utilized for the soft seals in "fire-safe" valves remains dependent upon the required chemical resistance to suit the fluid, the application and operation conditions. When fire does break out, it is important that it does not spread through failures in pipe-work systems. Even under the most extreme conditions shut-off valves provide:
• Secure Operation, • Reliable Sealing in shut-off position, • Reliable Sealing to the outside.
50MM FB #150 Metal Seated
| Sr.No. | PART NAME | STAINLESS STEEL | CARBON STEEL | QTY |
| --- | --- | --- | --- | --- |
| 1 | BODY | ASTM A351 CF8M | ASTM A216 WCB | 1 |
| 2 | END CONN. | ASTM A351 CF8M | ASTM A216 WCB | 1 |
| 3 | BALL | ASTM A276 SS316 | ASTM A276 SS316 | 1 |
| 4 | STEM | ASTM A479 SS316 | ASTM A479 SS316 | 1 |
| 5 | SEAT | ASTM 182 SS316 | ASTM 182 SS316 | 2 |
| 6 | SEAT RING/SPRING | GRAPHITE / INCONEL | GRAPHITE / INCONEL | 2 |
| 7 | STEM SEAL | GRAPHITE | GRAPHITE | 2 |
| 8 | GLAND | SS316 | MS | 1 |
| 9 | GLAND BEARING | DELRIN | DELRIN | 1 |
| 10 | SPACER | SS316 | SS316 | 1 |
| 11 | STEM THRUST WASHER | PEEK / SS316(Hr Cr) | PEEK / SS316(Hr Cr) | 1 |
| 12 | BODY SEAL | GRAPHITE | GRAPHITE | 1 |
| 13 | STUD | ASTM A193 GR.B8M | ASTM A193 GR.B7 | 4 |
| 14 | NUT | ASTM A194 GR.8M | ASTM A194 GR.2H | 4 |
| 15 | LEVER | SS410 | SS410 | 1 |
| 16 | ALLEN BOLT | MS | MS | 1 |