Full Bore body, avoids clogging and ensures smooth flow when handling slurries and solid.
Design in compliance with ASME B16.34 / BS5351.
Ideal valve for diverter application / (1 inlet 2 outlet)
Body cavity fillers available
Material compliance with NACE specification.
Blowout proof stem
Low emission packing
Cavity filler available.
Leakage Test:
Actuator mounting flange:
L-Port Design Configuration: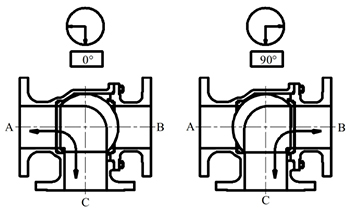 TYPE :
Two Piece Flanged End
PORT :
Full Bore
SIZE :
15 mm to 200mm NB
Pressure Rating :

ASME #150 PN 20

ASME #300 PN 50

Temperature Range
35 Deg C to 280 Deg C (Soft Seated)
Body Materials
Stainless Steel / Carbon Steel / Alloys
Design Standard
API 6D rev 23; ISO 17292 rev 2004
End Flanges
ASME B16.5 2013
Face to Face Dimension
ASME B16.10 Rev 2009
Fire safe design
API-607 Rev 2010
Testing
API 598 Rev 2009
Sour Service
NACE MOR 0175 Rev 2009
Documents
BS/EN 10204-3.1 REV 2004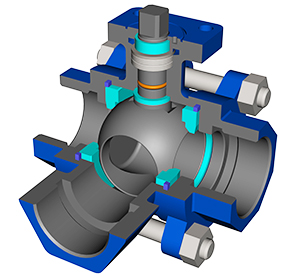 Sankey side entry 3-Way ball valve offers diverting and mixing / selection flow patterns and often eliminates the need for two valves. The L-port configuration is available as a 2 piece in two seat thus is extremely versatile in various configurations and the full port design is easily automated as it comes in and is available with various seat materials for various pressure and temperature range.

Areas of application
Chemical / Pharmaceutical / Food / Pharmaceutical / Petrochemical / Energy / Plastics / Oil and Gas / Cement and lubrication
KEY FEATURES:
Full Bore body, avoids clogging and ensures smooth flow when handling slurries and solid.
Body cavity fillers available
All sides sealed
All sides of the ball valve are sealed.
All sides tight – independent product inlet
Blowout proof stem
Low emission packing
25MM FB #2500
| Sr.No. | PART NAME | STAINLESS STEEL | CARBON STEEL | QTY |
| --- | --- | --- | --- | --- |
| 1 | BODY | ASTM A479 SS316 | A105 | 1 |
| 2 | END CONN. | ASTM A479 SS316 | A105 | 1 |
| 3 | BALL | ASTM A276 SS316 | ASTM A276 SS316 | 1 |
| 4 | STEM | ASTM A479 SS316 | ASTM A479 SS316 | 1 |
| 5 | SEAT | PTFE | PTFE | 2 |
| 6 | STEM SEAL | GRAPHITE | GRAPHITE | 2 |
| 7 | GLAND | SS316 | MS | 1 |
| 8 | GLAND BEARING | DELRIN | DELRIN | 1 |
| 9 | SPACER | SS316 | SS316 | 1 |
| 10 | STEM THRUST WASHER | GFT | GFT | 1 |
| 11 | BODY SEAL | GRAPHITE | GRAPHITE | 1 |
| 12 | STEM O-RING | VITON | VITON | 1 |
| 13 | END CONN. O-RING | VITON | VITON | 1 |
| 14 | STUD | ASTM A193 GR. B8M | ASTM A193 GR.B7 | 6 |
| 15 | NUT | ASTM A194 GR. 8M | ASTM A194 GR.2H | 6 |
| 16 | LEVER | SS410 | SS410 | 1 |
| 17 | STOPER | MS | MS | 1 |
50MM FB #400
| Sr.No. | PART NAME | STAINLESS STEEL | CARBON STEEL | QTY |
| --- | --- | --- | --- | --- |
| 1 | BODY | ASTM A351 CF8M | ASTM A216 WCB | 1 |
| 2 | END CONN. | ASTM A351 CF8M | ASTM A216 WCB | 2 |
| 3 | BALL | ASTM A276 SS316 | ASTM A276 SS316 | 1 |
| 4 | STEM | ASTM A479 SS316 | ASTM A479 SS316 | 1 |
| 5 | SEAT | PTFE | PTFE | 2 |
| 6 | STEM SEAL | GRAPHITE | GRAPHITE | 2 |
| 7 | GLAND | SS316 | MS | 1 |
| 8 | GLAND BEARING | DELRIN | DELRIN | 1 |
| 9 | SPACER | SS316 | SS316 | 1 |
| 10 | STEM THRUST WASHER | GFT | GFT | 1 |
| 11 | BODY SEAL | GRAPHITE | GRAPHITE | 2 |
| 12 | STEM O-RING | VITON | VITON | 1 |
| 13 | STUD | ASTM A193 GR. B8M | ASTM A193 GR.B7 | 4 |
| 14 | NUT | ASTM A194 GR. 8M | ASTM A194 GR.2H | 8 |
| 15 | LEVER | SS410 | SS410 | 1 |
| 16 | STOPER | MS | MS | 1 |
| 17 | ALLEN BOLT | MS | MS | 1 |
25MM FB #2500
| Sr.No. | PART NAME | STAINLESS STEEL | CARBON STEEL | QTY |
| --- | --- | --- | --- | --- |
| 1 | BODY | ASTM A351 CF8M | ASTM A216 WCB | 1 |
| 2 | END CONN. | ASTM A351 CF8M | ASTM A216 WCB | 2 |
| 3 | BALL | ASTM A276 SS316 | ASTM A276 SS316 | 1 |
| 4 | STEM | ASTM A479 SS316 | ASTM A479 SS316 | 1 |
| 5 | SEAT | PTFE | PTFE | 2 |
| 6 | STEM SEAL | GRAPHITE | GRAPHITE | 2 |
| 7 | GLAND | SS316 | MS | 1 |
| 8 | GLAND BEARING | DELRIN | DELRIN | 1 |
| 9 | SPACER | SS316 | SS316 | 1 |
| 10 | STEM THRUST WASHER | GFT | GFT | 1 |
| 11 | BODY SEAL | GRAPHITE | GRAPHITE | 2 |
| 12 | STEM O-RING | VITON | VITON | 1 |
| 13 | END CONN. O-RING | VITON | VITON | 2 |
| 14 | STUD | ASTM A193 GR. B8M | ASTM A193 GR.B7 | 8 |
| 15 | NUT | ASTM A194 GR. 8M | ASTM A194 GR.2H | 8 |
| 16 | LEVER | SS410 | SS410 | 1 |
| 17 | STOPER | MS | MS | 1 |
| 18 | ALLEN BOLT | MS | MS | 1 |
40MM X 65MM FB #150 JACKETED
| Sr.No. | PART NAME | STAINLESS STEEL | CARBON STEEL | QTY |
| --- | --- | --- | --- | --- |
| 1 | BODY | ASTM A351 CF8M | ASTM A216 WCB | 1 |
| 2 | INSERT | ASTM A479 SS316 | ASTM A479 SS316 | 1 |
| 3 | BALL | ASTM A276 SS316 | ASTM A276 SS316 | 1 |
| 4 | STEM | ASTM A479 SS316 | ASTM A479 SS316 | 1 |
| 5 | SEAT | PTFE | PTFE | 2 |
| 6 | STEM SEAL | GRAPHITE | GRAPHITE | 2 |
| 7 | GLAND | SS316 | MS | 1 |
| 8 | GLAND BEARING | DELRIN | DELRIN | 1 |
| 9 | SPACER | SS316 | SS316 | 1 |
| 10 | STEM THRUST WASHER | GFT | GFT | 1 |
| 11 | BODY SEAL | GRAPHITE | GRAPHITE | 1 |
| 12 | STEM O-RING | VITON | VITON | 1 |
| 13 | BODY SEAL | GRAPHITE | GRAPHITE | 1 |
| 14 | END CONN. O-RING | VITON | VITON | 1 |
| 15 | JACKET TOP | MS | MS | 1 |
| 16 | JACKET BOTTOM | MS | MS | 1 |
| 17 | NOZZLE | SS304 | SS304 | 2 |
| 18 | LEVER | SS410 | SS410 | 1 |
| 19 | ALLEN BOLT | MS | MS | 1 |
| 20 | STOPER | MS | MS | 1 |
25MM FB #150 WAFER TYPE
| Sr.No. | PART NAME | STAINLESS STEEL | CARBON STEEL | QTY |
| --- | --- | --- | --- | --- |
| 1 | BODY | ASTM A479 SS316 | A105 | 1 |
| 2 | INSERT | ASTM A479 SS316 | A105 | 1 |
| 3 | BALL | ASTM A276 SS316 | ASTM A276 SS316 | 1 |
| 4 | STEM | ASTM A479 SS316 | ASTM A479 SS316 | 1 |
| 5 | SEAT | PTFE | PTFE | 2 |
| 6 | STEM SEAL | GRAPHITE | GRAPHITE | 2 |
| 7 | GLAND | SS316 | MS | 1 |
| 8 | GLAND BEARING | DELRIN | DELRIN | 1 |
| 9 | SPACER | SS316 | SS316 | 1 |
| 10 | STEM THRUST WASHER | GFT | GFT | 1 |
| 11 | BODY SEAL | GRAPHITE | GRAPHITE | 1 |
| 12 | STEM O-RING | VITON | VITON | 1 |
| 13 | END CONN. O-RING | VITON | VITON | 1 |
| 14 | LEVER | SS410 | SS410 | 1 |
| 15 | STOPER | MS | MS | 1 |
| 16 | ALLEN BOLT | MS | MS | 1 |
50MM FB #150
| Sr.No. | PART NAME | STAINLESS STEEL | CARBON STEEL | QTY |
| --- | --- | --- | --- | --- |
| 1 | BODY | ASTM A351 CF8M | ASTM A216 WCB | 1 |
| 2 | END CONN. | ASTM A351 CF8M | ASTM A216 WCB | 1 |
| 3 | BALL | ASTM A276 SS316 | ASTM A276 SS316 | 1 |
| 4 | STEM | ASTM A479 SS316 | ASTM A479 SS316 | 1 |
| 5 | SEAT | PTFE | PTFE | 2 |
| 6 | STEM SEAL | GRAPHITE | GRAPHITE | 2 |
| 7 | GLAND | SS316 | MS | 1 |
| 8 | GLAND BEARING | DELRIN | DELRIN | 1 |
| 9 | SPACER | SS316 | SS316 | 1 |
| 10 | STEM THRUST WASHER | GFT | GFT | 1 |
| 11 | BODY SEAL | GRAPHITE | GRAPHITE | 2 |
| 12 | STEM O-RING | VITON | VITON | 1 |
| 13 | END CONN. O-RING | VITON | VITON | 1 |
| 14 | STUD | ASTM A193 GR.B8M | ASTM A193 GR.B7 | 4 |
| 15 | NUT | ASTM A194 GR.8M | ASTM A194 GR.2H | 4 |
| 16 | LEVER | SS410 | SS410 | 1 |
| 17 | STOPER | MS | MS | 1 |
| 18 | ALLEN BOLT | MS | MS | 1 |
32MM FB #400 L-PORT
| Sr.No. | PART NAME | STAINLESS STEEL | CARBON STEEL | QTY |
| --- | --- | --- | --- | --- |
| 1 | BODY | ASTM A351 CF8M | ASTM A216 WCB | 1 |
| 2 | END CONN. | ASTM A351 CF8M | ASTM A216 WCB | 2 |
| 3 | BALL | ASTM A276 SS316 | ASTM A276 SS316 | 1 |
| 4 | STEM | ASTM A479 SS316 | ASTM A479 SS316 | 1 |
| 5 | SEAT | PTFE | PTFE | 2 |
| 6 | STEM SEAL | GRAPHITE | GRAPHITE | 2 |
| 7 | GLAND | SS316 | MS | 1 |
| 8 | GLAND BEARING | DELRIN | DELRIN | 1 |
| 9 | SPACER | SS316 | SS316 | 1 |
| 10 | STEM THRUST WASHER | GFT | GFT | 1 |
| 11 | BODY SEAL | GRAPHITE | GRAPHITE | 2 |
| 12 | STEM O-RING | VITON | VITON | 1 |
| 13 | STUD | ASTM A193 GR.B8M | ASTM A193 GR.B7 | 4 |
| 14 | NUT | ASTM A194 GR.8M | ASTM A194 GR.2H | 8 |
| 15 | LEVER | SS410 | SS410 | 1 |
| 16 | STOPER | MS | MS | 1 |
| 17 | ALLEN BOLT | MS | MS | 1 |
80MM FB #150 CAVITY FILLED
| Sr.No. | PART NAME | STAINLESS STEEL | CARBON STEEL | QTY |
| --- | --- | --- | --- | --- |
| 1 | BODY | ASTM A351 CF8M | ASTM A216 WCB | 1 |
| 2 | END CONN. | ASTM A351 CF8M | ASTM A216 WCB | 1 |
| 3 | BALL | ASTM A182 SS316 | ASTM A182 SS316 | 1 |
| 4 | STEM | ASTM A182 SS316 | ASTM A182 SS316 | 1 |
| 5 | SEAT | PTFE | PTFE | 2 |
| 6 | STEM SEAL | GRAPHITE | GRAPHITE | 2 |
| 7 | GLAND | SS316 | MS | 1 |
| 8 | GLAND BEARING | DELRIN | DELRIN | 1 |
| 9 | SPACER | SS316 | SS316 | 1 |
| 10 | STEM THRUST WASHER | GFT | GFT | 1 |
| 11 | BODY SEAL | GRAPHITE | GRAPHITE | 1 |
| 12 | STEM O-RING | VITON | VITON | 1 |
| 13 | CAVITY 1 | PTFE | PTFE | 1 |
| 14 | CAVITY 2 | PTFE | PTFE | 1 |
| 15 | STUD | ASTM A193 GR.B8M | ASTM A193 GR.B7 | 8 |
| 16 | NUT | ASTM A194 GR.8M | ASTM A194 GR.2H | 8 |
| 17 | STOPER | MS | MS | 1 |
| 18 | LEVER | SS410 | SS410 | 1 |
100MM X 150MM #150 TANK BOTTOM BALL VALVE
| Sr.No. | PART NAME | STAINLESS STEEL | CARBON STEEL | QTY |
| --- | --- | --- | --- | --- |
| 1 | BODY | ASTM A351 CF8M | A105 | 1 |
| 2 | INSERT | ASTM A479 SS316 | A105 | 1 |
| 3 | BALL | ASTM A182 SS316 | ASTM A182 SS316 | 1 |
| 4 | STEM | ASTM A182 SS316 | ASTM A182 SS316 | 1 |
| 5 | SEAT | PTFE | PTFE | 2 |
| 6 | STEM SEAL | GRAPHITE | GRAPHITE | 1 |
| 7 | GLAND | SS316 | MS | 1 |
| 8 | STEM THRUST WASHER | GFT | GFT | 1 |
| 9 | STEM O-RING | VITON | VITON | 2 |
| 10 | END CONN. O-RING | VITON | VITON | 2 |
| 11 | CAVITY 1 | PTFE | PTFE | 1 |
| 12 | CAVITY 2 | PTFE | PTFE | 1 |
| 13 | LEVER | SS410 | SS410 | 1 |
| 14 | STOPER | MS | MS | 1 |